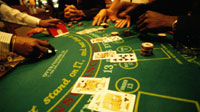 Vas Spanos is one of the world's premier educators in strategy Blackjack. Originally from Greece, he earned his B.S. in Mathematics at the University of Athens. In 1969, He moved to Canada where he earned his M.S. at the University of Ottowa and began his teaching career. In 1972, he moved to the United States to work for a Ph.D. at the University of Minnesota where he taught mathematics until 1980. Spanos is among the very few, if not the ONLY person, to achieve a perfect score in two of the three written Ph.D. exams at the University of Minnesota.

As Henry Kissinger once said, "university politics are vicious precisely because the stakes are so small." (Robert Byrne, 1911 Best Things Anybody Ever Said ) Weary of university politics, Spanos shifted his interest from academia to owning and operating his own strategy "21" school and in 1980, founded VAS SPANOS BLACKJACK EXPERTS in Minneapolis, Minnesota. He has produced thousands of successful strategy Blackjack players and continues to educate people in the fine art of playing Blackjack as a business. He also owns and operates the VAS SPANOS BLACKJACK CLUB where his graduates practice and maintain their skill in a casino atmosphere with professional dealers.

Spanos also publishes a monthly NEWSLETTER for club members and wrote a monthly column for the now-defunct Casino magazine. In 1991, working as a consultant for the tribal casinos in Minnesota, he devised the final form for the rules now in use in Minnesota casinos. He is also a private investor. His hobbies include playing tennis, watching track and field meets, travelling (at the expense of casinos worldwide), and Kung-Fu.